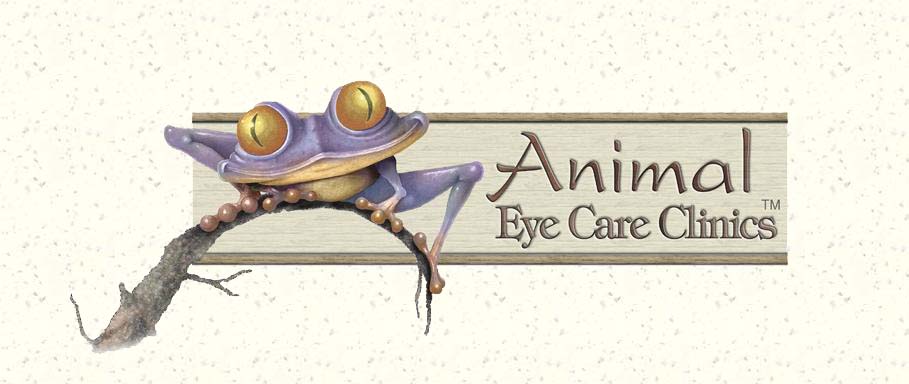 Contact the Clinic Appointments Payment for Services Directions Prescription Refills
Cataract Surgery Pet Health Links Employment Privacy Statement
"...that light shall prevail over darkness..."
- motto of the American College of Veterinary Ophthalmologists
Who we are...
Welcome to the Animal Eye Care Clinics website. We are a referral veterinary ophthalmology practice, and have provided specialized veterinary ophthalmic care for companion animals in Southern California since 1992.
The Animal Eye Care Clinics serve the veterinarians, clients and patients in Los Angeles, Ventura, Santa Barbara, and Kern counties in California. Each year, over 500 veterinarians in Southern California refer clients and their pets to our clinic.
Animal Eye Care Clinics have two practice locations. Our main hospital is located in Camarillo, CA. We also have a satellite clinic (Thursdays only) in Woodland Hills, CA (the San Fernando Valley).
We are pleased to offer the services of Dr. Jeannette M.A. da Silva Curiel, board-certified veterinary ophthalmologist and Dr. Ruby Goldenberg, Resident.
What we do...
The following are some of the instruments that are used at the Animal Eye Care Clinics to aid in the diagnosis and treatment of eye diseases in our patients:

A routine ophthalmic examination is performed using specialized equipment, such as the slit-lamp biomicroscope and indirect ophthalmoscope, to examine the front and back of the eye. Intraocular pressure measurements are performed with TonoPenTM applanation tonometer. Gonioscopic lenses are used to examine the eye's drainage apparatus to help diagnose glaucoma. Electroretinography (ERG) is used to determine the health of the retina prior to performing cataract surgery, and to determine the cause of some types of vision loss. Our state-of-the art ocular ultrasonography machine is used to check for intraocular problems such as retinal detachment or intraocular tumors, and can also be used to examine the tissues behind the eye (in the eye socket). Ocular prosthetics are available for some patients that require eye removal.

Laser therapy, using a Nd:YAG medical laser, is used in the treatment of several ophthalmic disorders, especially glaucoma surgery. Cryotherapy (freezing) is used in the treatment of eyelash disorders and treatment of some eyelid tumors. In older dogs, many eyelid tumors can be removed with cryosurgery using just local anesthetic, thereby avoiding the need for general anesthesia.

When needed, a patient may be referred to another specialized veterinary facility for a CT or MRI scan, or consultation with another veterinary specialist (such as an internal medicine specialist, cardiologist, neurologist, etc.)

Microsurgical procedures are performed in a sterile environment in the operating room, using extremely small instruments and an operating microscope to magnify the ocular tissues. Microsurgical procedures include cataract surgery, corneal laceration repair, glaucoma surgery, plastic surgery, etc. Patients are anesthetized with isoflurane gas anesthetic, and continuously monitored with state-of-the art equipment, including Doppler blood pressure monitoring, end-tidal carbon dioxide monitor, electrocardiography, and pulse oximetry.

Cataract surgery is the most common microsurgical procedure performed at our hospital. Electroretinography and ocular ultrasonography are performed prior to surgery to ensure that retinal health is adequate for vision. The cataractous lenses are then removed using phacoemulsification, and artificial lens implants (intraocular lenses or IOL's) are implanted to restore normal focusing ability to the eye. (For more information on cataract surgery, click here).
Back to Top
What is a board-certified veterinary ophthalmologist?
A veterinarian cannot legally refer to himself or herself as a specialist in any field of veterinary medicine unless they are board-certified in a specialty recognized by the American Veterinary Medical Association (AVMA).
A veterinary ophthalmologist is a veterinarian who specializes in the treatment of eye diseases in animals, and who is board-certified by the AVMA-recognized American College of Veterinary Ophthalmologists (ACVO). There are only about 400 ACVO board-certified veterinary ophthalmologists in the world.
Many years of training are required to become board-certified in veterinary ophthalmology. In addition to the typical 8 years of college required to become a veterinarian, a veterinary ophthalmologist will then complete at least 4 years of additional training, including a one-year internship in general medicine and surgery, plus a three-year residency in an ACV0-approved ophthalmology residency. After completion of their residency, the veterinarian must then pass a rigorous, four-day, written and practical certifying examination in order to become board-certified and receive Diplomate status in the American College of Veterinary Ophthalmologists. For more information on the American College of Veterinary Ophthalmologists, please visit www.ACVO.org.
Back to Top
When should my pet be examined by a board-certified veterinary ophthalmologist?
Your veterinarian may elect to refer your pet to a veterinary ophthalmologist when your pet's eye condition requires specialized ophthalmic expertise or instrumentation that your veterinarian does not have available to them. Referral of your pet to the veterinary ophthalmologist demonstrates your veterinarian's concern for your pet's welfare, and their desire to provide the best care for your pet.
Some of the more common reasons for a veterinarian to refer a patient to us include: evaluation of cataracts, cataract surgery to restore vision in patients blinded by cataracts, vision loss, glaucoma, trauma to the eye or eyelids, ocular inflammation, any eye condition requiring specialized ophthalmic surgery, or any eye problem that is unresponsive to treatment.
Back to Top
Our Ophthalmologist - Dr. Jeannette M.A. da Silva Curiel, B.Sc, DVM, Diplomate ACVO
Dr. da Silva Curiel graduated from the University of Calgary in 1982 with a Bachelor of Science degree (in Animal Biology). In 1986, she graduated as a Doctor of Veterinary Medicine (with distinction) from the University of Saskatchewan. After completing a one year post-graduate internship in general veterinary medicine and surgery at the University of Missouri, a three year residency program in comparative veterinary ophthalmology was then completed at the University of California, Davis, and the University of Missouri. In 1990, Dr. da Silva Curiel became a diplomate of the American College of Veterinary Ophthalmologists. Dr. da Silva Curiel has been in continuous private practice since 1990. Dr. da Silva Curiel served as a member of the Board-Certification Examination Committee for the American College of Veterinary Ophthalmologists from 2001-2004.

Dr. Jeannette da Silva Curiel is a proud member of the following organizations:

The American Veterinary Medical Association (AVMA)
The American College of Veterinary Ophthalmologists (ACVO)
The California Veterinary Medical Association (CVMA)
The Southern California Veterinary Medical Association (SCVMA)
The Santa Barbara and Ventura Veterinary Medical Association (SBVVMA)
The Veterinary Information Network (VIN)
The Phi Zeta Society, Pi Chapter (Veterinary Honor Society)
Dr. Goldenberg graduated from the University of California, Davis in 2002 with a Bachelor of Science degree in Avian Sciences. After working for the Los Angeles Zoo and the veterinary teaching hospital at the Oklahoma State University, she graduated as a doctor of veterinary medicine in May 2011 from the Western University of Health Sciences. After graduation, she completed a one-year post-graduate internship in small animal medicine and surgery at the Animal Specialty and Emergency Center in West Los Angeles. As of July 2016, Dr. Goldenberg has completed her residency in ophthalmology. Being a native of Southern California, she enjoys spending time outdoors with her husband, two dogs and parrot.

Dr. Ruby Goldenberg is a proud member of the following organizations:

The American Veterinary Medical Association (AVMA)
The California Veterinary Medical Association (CVMA)
Veterinary Emergency and Critical Care Society (VECCS)
The Phi Zeta Society, Alpha Epsilon Chapter (Veterinary Honor Society)
Back to Top